BERLIN BRIGADE - McNAIR BARRACKS
BERLIN BRIGADE
After the end of World War II the Allied forces occupied West Berlin. This occupation lasted throughout the Cold War. The Berlin-Brigade was a term used to describe the brigade-sized garrison forces based there by the British and American armies; the French army also maintained a garrison, but did not use the name. The U.S. Berlinbrigade was an United States Army unit; its shoulder sleeve insignia was the U.S. Army Europe patch with Berlin tab. During the Berlin Wall Crisis of 1961, the army reorganized

the command structure of the forces in Berlin and created the U.S. Army Berlin and created the Berlin-Brigade from the units already in the city.

After the reunification of Germany, the Berlin-Brigade was no longer necessary and it was deactivated in 1994. The Berlin-Brigade was the first combat unit selected to deploy to the Former Yugoslav Republic of Macedonia in 1993 as Task Force Able Sentry.
The brigade consisted of:
2nd, 3rd, and 4th Battalions of the 6th Infantry Regiment (reflagged to 4th, 5th and 6th Battalions of the 502nd Infantry Regiment)
Battery C 94th Field Artillery
Echo Battery 320th Field Artillery
Company F of the 40th Armor
42nd Engineer Company
42nd Military Police Company (Customs)
287th Military Police Company (Separate)
43rd and 76th Chemical Detachments
279th Station Hospital (became US Army Hospital Berlin in 1976)
168th Medical Detachment (Veterinary Service)
298th Army Band
MCNAIR BARRACKS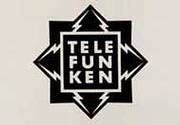 | | |
| --- | --- |
| McNair-Barracks occupies the site of the former AEG Telefunken electronics factory, a Nazi-era complex. During the war, research took place on some of the "miracle" weapons that Hitler hoped would turn the tide of the war. One of | the most important products to be developed and produced in the factory was a radar-guided flak control system which could ascertain range and select individual targets. |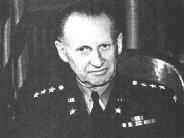 | | |
| --- | --- |
| The Barracks were named after Lieutenant General Leslie J. McNair. After America´s entry into World War II, McNair was put in charge of | mobilizing and training U.S. Army ground forces. He was killed while observing front line operations in France in July 1944. |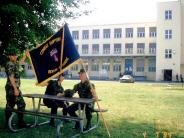 | | |
| --- | --- |
| For many years McNair-Barracks has been home to the combat battalions of the Berlin-Brigade, the 5th and 6th Battalions of the 502nd Infantry, the 6th Battalion of the 40th Armor and others. The 168th and 298th share the | distinction of being the longest serving units in Berlin. They both arrived to the city in a 37-vehicle convoy on July 3, 1945. The commanders of both units were old high school classmates. |
TODAY: 10 - TOTAL: 2493.